Widgets
The KINFO portfolio widget is a great way to share your portfolio metrics through your blog. There are two widgets to chose from but you could as well have both on your site. The widgets are directly linked to your KINFO profile and updated in real-time.
Get Verified and Promote Your Blog
A benefit you get when using the blogger widgets is that it allows you to get verified. Verified users can link their blog to the app to acquire new readers, readers can even view the blog in the app. Find out more about getting verified.
Portfolio Performance Widget
This widget shows your accounts performance for a selected period, you can choose which period to display from 1 week to 1 year.
Portfolio Positions Widget
This widget shows your top positions sorted by allocation.
Using the Official WordPress Plugin
The easiest way to install the widget on your blog is by using the official WordPress plugin. The plugin is available on wordpress.com here. You can also install the plugin from WordPress Admin by selecting Add New Plugin and search for KINFO.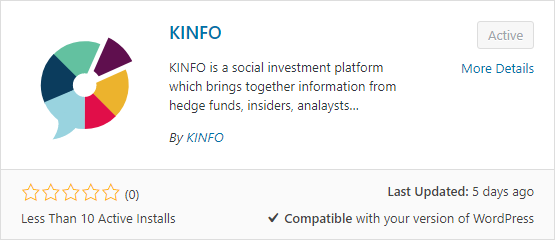 You install one plugin and with the plugin you can add two types of widgets to your blog.
To display the widget on a page you can either use the installed WordPress widgets or you can use shortcodes
Using WordPress Widgets
Navigate to the widgets admin menu in, it´s located under Appearance.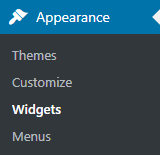 Next, find the two KINFO Widgets under available widgets

Drag the widgets to where you want them displayed, for example the right sidebar if you use it.
To configure the widget you need to enter your profile id and the account number you want to show information from.
How do I find the profile id and account number?
Login to your account
Navigate to Home from the top navigation
Click Portfolio in the left navigation to view your accounts.
If you have one account you will arrive directly in the performance view for that account, if you have multiple accounts, select the account you want to display in the widget.

In the address bar you will find your profile id directly after /profile/ and account number directly after /account/, in the example image the profile id is 8002 and the account number is 292.
When using the performance widget you need to select the period.
Optionally you can set the width of the widget, if you don´t specify width it will be set to 320 pixels. The height of the widget will be adjusted automatically and may vary slightly depending on which Stocks/Funds you own and the length of their names.
Using Short Codes
With short codes you can display the widget anywhere you like by using the editor. Use the following codes to display the widgets
Performance Widget