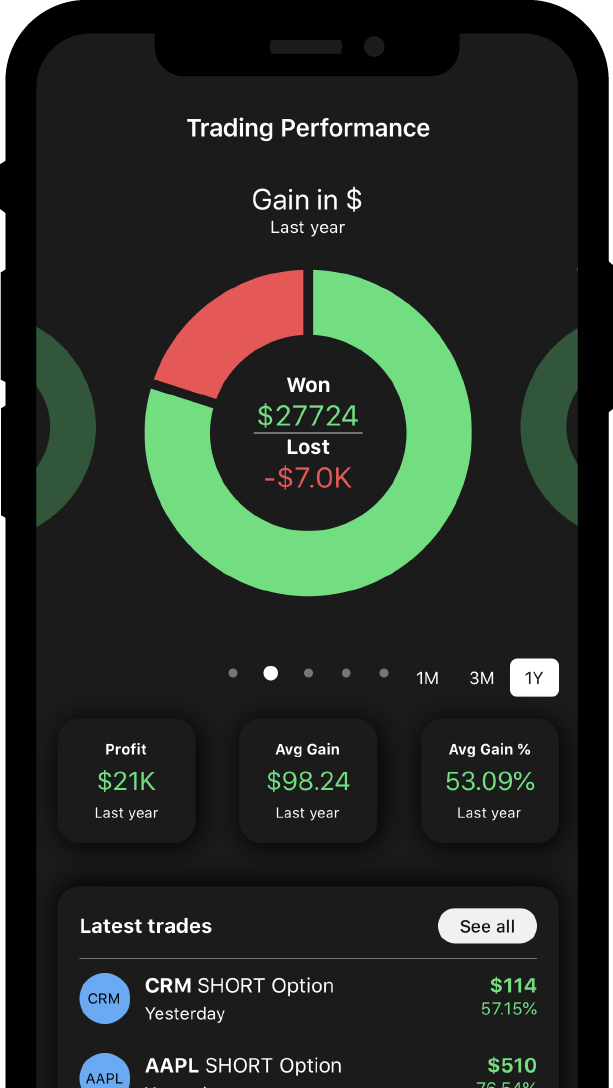 Kinfo tracks your trading performance and lets you view top traders portfolios.
Track your trading performance
Kinfo calculates relevant trading metrics and will show you how you perform
Analyze individual trades in detail
See every detail about every trade for better insight
View successful traders portfolios
View trades, metrics and charts from traders with proven success
Receive alerts when someone trades
Follow your favourites and receive an alert when they make a trade
Track your all time returns from trading
Your goal is to make profit, right? This this your no1 metric to track
The journal tracks monthly progress
See how you perform monthly, analyze your success or failures
Tap on any trade to view its details
Learn about what works by analyzing your own trades
How it works
Kinfo works by integrating directly with your broker. Linking only takes a few seconds, it´s secure and it´s optional to share your trading performance.
1. Signup
Download the app or signup on the web. It only takes a minute, its´free and we don´t send spam
2. Link your broker
Linking your broker is secure, we don´t see your credentials and it´s optional to share your performance
3. Start tracking
View your trading performance such as winning trades, your gain per trade and your all-time profit
View successful traders portfolios 
See what they are trading and
what makes them succeed
Find traders to follow in the leaderboard
Traders are ranked by the their trading performance metrics
Follow your favorites

and get notified

Don´t miss out to learn from the best! 
Kinfo works with thousands of US brokers including these
Latest articles from the blog