Get Verified
The verified system is developed to provide bloggers and users with mutual benefits. It let´s users more easily find relevant and trustworthy sources of information and bloggers are provided with an additional channel to aquire new readers and subscribers.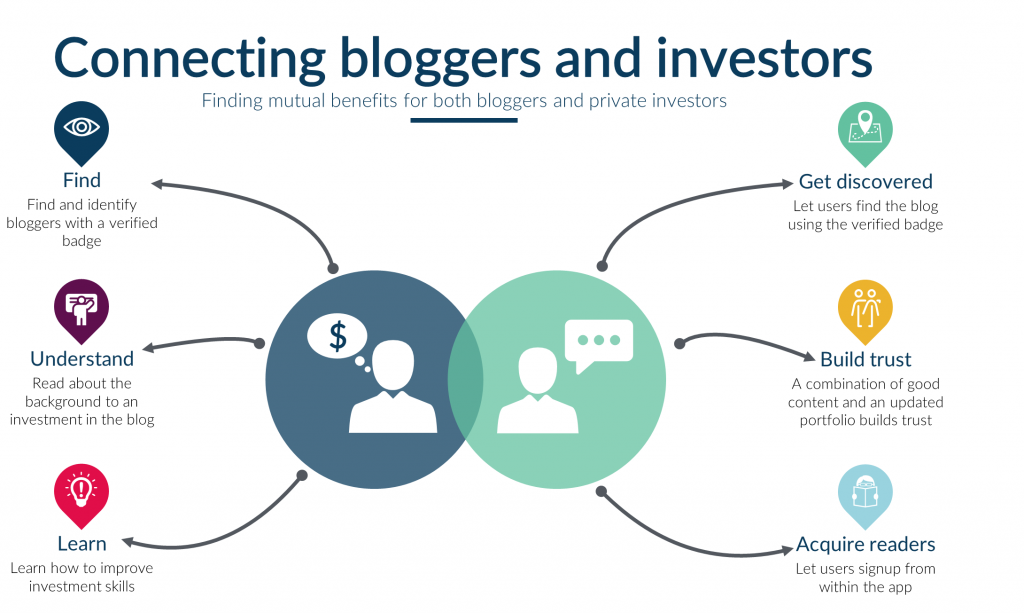 Benefits for Bloggers
If you run a personal finance or investment blog, having verified status in KINFO is a great way to let people find your blog and give them a chance to subscribe if they find your content interesting and relevant.
Standing Out
Everywhere where your name is shown, users will see a blue verified badge next to your name. When users browse lists of profiles and accounts your name will stand out.
Users Can Read Your Blog Directly In The App
When linking your blog, users can open and read your blog with one click directly in the app.
A New Channel Aquire Readers & Subscribers
If you run a personal finance or investing blog your are probably using different channels such as Twitter, Facebook, Pinterest to aquire readers and subscribers. The problem with these networks is that they are so large so it´s difficult to reach new people with a particular interest without going through paid advertising. Users of KINFO consist of people who already joined because they have an interest in personal finance & investing. Many users already follow blogs and angage in searching for new valuable sources of information where your blog could be just what they are looking for.
Building Your Reputation and Authority
Writing about personal finance & investing on a personal blog is great way to build your reputation online. Showing how you perform and how you are invested is even better. Combining these two is as good as it gets and it will users the ultimate proof that you write about what you invest in and you invest in what you write about. There is simply no way to cheat around it and it gives you as a blogger a natural authority as a trustworthy source of information.
Get Promoted in Blogger Only Lists
In the app you will find lists of best performing portfolios or users with most followers for example. In addition, users can list portfolios by bloggers only. Many users don´t just search for top performers, they also want to know the hows and whys behind a portfolio, they want to find bloggers like you and KINFO makes it easiers for them to find you.
Helps You Network With Other Bloggers
As a blogger you are a user as well and you are probably already engaged in the blogger community and forums realted to bloggers. KINFO makes it easy to connect with your blogger friends and share information and advice.
Get Featured in Posts on the KINFO Blog
The KINFO blog provides updates on various topics at least once a week. From time to time we will feature bloggers and write a piece of content around how you use KINFO or how you are invested. This may not just be top performers but can as well be about diversification or purely investing in index funds. If you have any ideas you would like us to bring up, feel free to get in touch!
Benefits for Investors
KINFO is all about creating transparency and making it easier for users to find trustwothy and relevant sources of information around investing.
Understand Thought the Behind Investments
Reviewing a portfolio gives users a great deal of insight. If they can read about the hows and whys around that portfolio it´s even more valuable. Everyone has slightly different goals with their investments, different time frames and tolerance for risk. When looking for inspiration, people want to see examples which they can by looking at your portfolio. They also want to know a bit more about your thoughts and why have invested a certain way. Your blog in combination with the portfolio will provide exactly that and give users confidence when searching for information.
Easy to Find Educational Material
By showing blogs directly in the app in combination with portfolio information, users have an efficient way of finding and reviewing sources which they find educational.
A Token of Trustworthy Information
Searching for information around investing is not straught forward, the internet is full of hoaxes and scams, especially when it comes to finding information about investing. When a user review portfolios in KINFO they know it´s the real deal. If they also see a verified badge they can be assured that the portfolio belongs to someone who also writes about their investments, have goals, a plan and put a lot of thought into their investment. This provides trust and piece of mind when looking for new ideas.
Requirements
If you already have a personal finance or investment blog, getting verified is easy. These are the requirements which need to be met.
You Must Have a Personal Finance or Investment Blog
Your blog doesn´t need to be purely about investing, it can as well be about broader personal finance, though you must at least have some material covering investing.
Display the Blogger Widget on Your Site
Make use of the blogger widget somewhere on your site.
Listed in the Rockstar Finance Blogger Directory
Your blog must be listed in the Rockstar Finance Blogger Directory.
Be a Member of the Rockstar Finance Forums
You must be a member of the Rockstar Finance Forums
Write a Piece of Content About Your Use of KINFO
This requirement doesn´t need to be met directly to get verified. If you just got started using the app & widget we will give you time to try it out and work on an interesting topic. Feel free to reach out to us if you need help. When you are ready we will also help promote your work through our own channels.