Triforce Trading offers a unique package, teaching students how to create profitable automated trading strategies for the futures market.
Pros
Extremely credible author
Fully transparent
Proven Track Record
Great Value for Money
Cons
Challenging learning curve
Limited broker choice
Who is Matthew Owens
Matthew Owens is a full-time Algorithmic Trader and Mentor. He graduated from Florida Atlantic University with a double bachelor in Psychology and German. He also has a Master's in Quantitative Finance.
Matthew is the founder of Triforce trading, which is the company and brand name he uses for his educational services. He has already taught hundreds of students to do what he does. Namely creating profitable and automated trading strategies.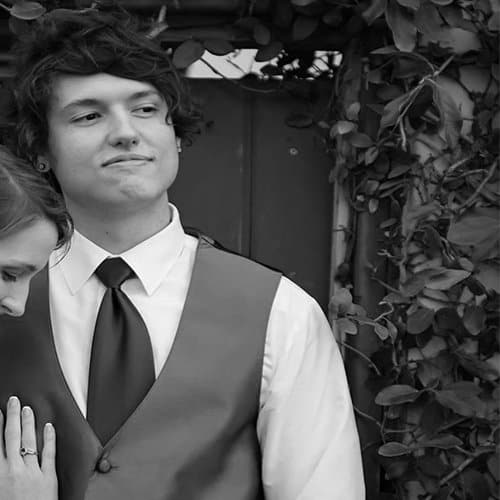 Triforce Trading
What makes Matthew unique is his transparency and honesty when it comes to providing full disclosure of his track record. With most trading education services being scams, this is very rarely seen and it adds to the credibility of Matthew as a teacher and mentor.
Most trading courses, even the credible ones, are focused on day trading equities (The Stock Market). Matthew has chosen a different approach and trades the Futures market using pre-made algorithmic strategies.
If you don´t know anything about the Futures market, Matthew wrote a great article about the futures market that describes this in detail.
Where other courses focus on chart patterns, signals, indicators and whatnot, Triforce trading is about algorithmic trading.
The idea here is to create a program that trades for you according to some predefined rules. Sounds complex? A bit maybe but it´s actually doable.
For a long time, I thought that algorithmic trading was something exclusive to PhDs on super-secretive hedge funds on wall street but of course, I was wrong and Matthew is the living proof of it. It´s possible to be consistently profitable as a self-taught algorithmic trader!
Courses
Triforce trading offers a few different packages and services depending on your experience level. There are two main packages, Triforce training 1 & 2. The first one is a comprehensive introduction and meant for beginners and the second course is going deeper into programming automated trading strategies.
The second course provides most value-for-money,  this is where you will start to code your automated strategies with the support from Matthew. The course requires some knowledge of trading, excel & coding so if you don´t have that you should start with Triforce training 1.
Features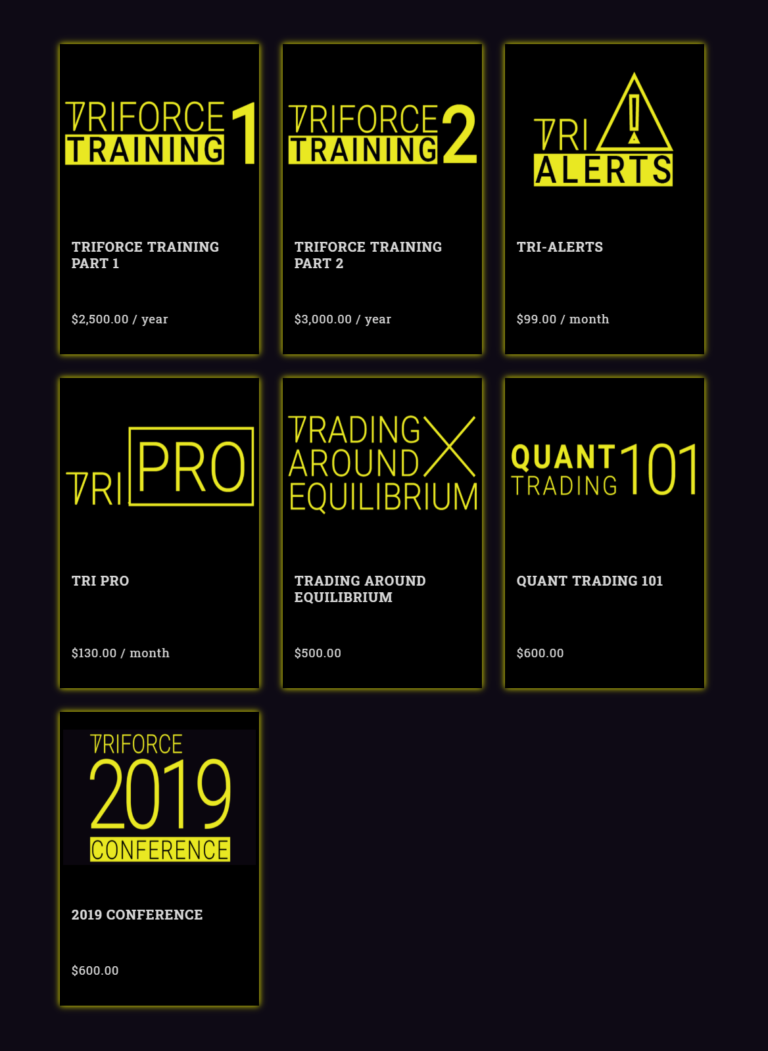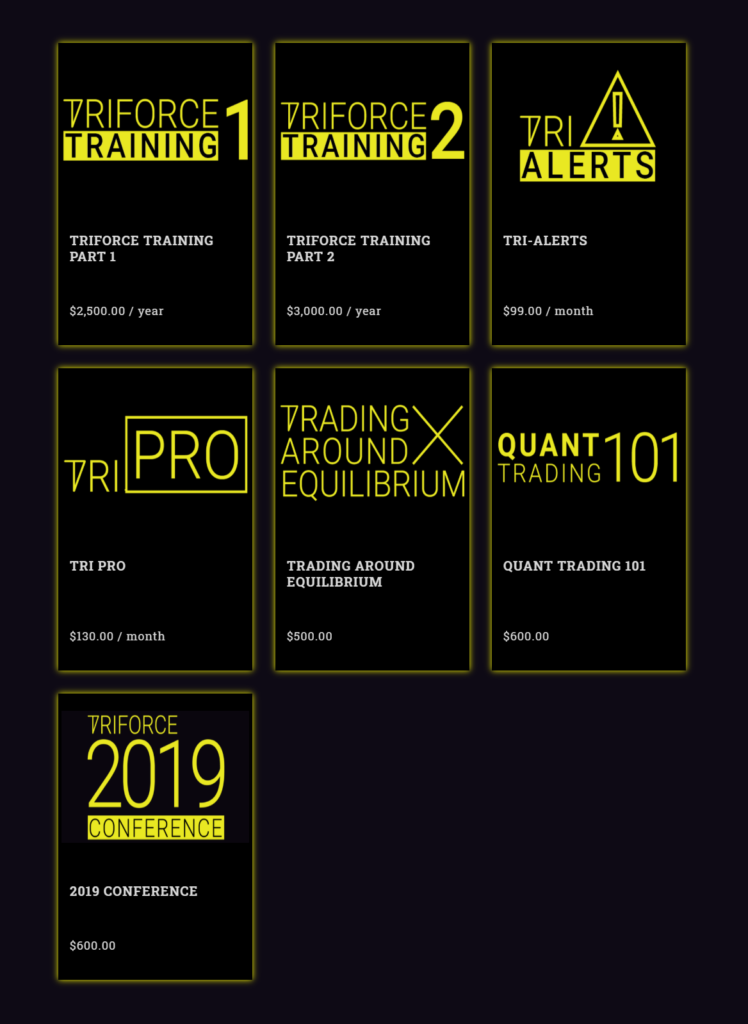 Other services
If you aren´t ready to code your own strategies but want to know when the algos decide to trade, you can subscribe to Tri alerts.
Tri Alerts comes with a newsletter that gives you daily written and video commentary, trade ideas, setups, and seasonal mechanical trade setups. Seasonal mechanical trades setups include entry, exit, and the stop loss. No thinking required! You are given all the data, and you can make the decision. There is also a hypothetical track record of these setups.
This is a good starting point if you are trying to get to know who Matthew is or how he trades.
A step up from Tri-alerts is another service called Tri-Pro.
Experience required
It should be said that to be successful at algorithmic trading you need to be able to code and there is some math involved as well. If this is all new to you, the learning curve can be steep. But hey! no money without putting in the work, right?
But to be honest, learning any type of trading style requires a lot of effort and learning. Some may never learn or will never become successful because they let emotions get in their way. If you succeed at algorithmic trading you will at least not have a problem with emotions, since the computer is trading for you!
Transparency
As a long-time member of kinfo, Triforce trading is 100% transparent. Triforce trading has a portfolio in kinfo which trades the strategies he teaches. The numbers here speak for themselves. 


It´s been profitable since 2016 and is without doubt proof of a successful trading strategy.


Apart from using kinfo, Triforce trading openly shares account statements in his Discord channel and on Twitter.
Some parts of the Triforce Discord channel are open to the public and for anyone to join.
This is a great place to start if you want to get to know Matthew or if you have questions about the courses and the material included.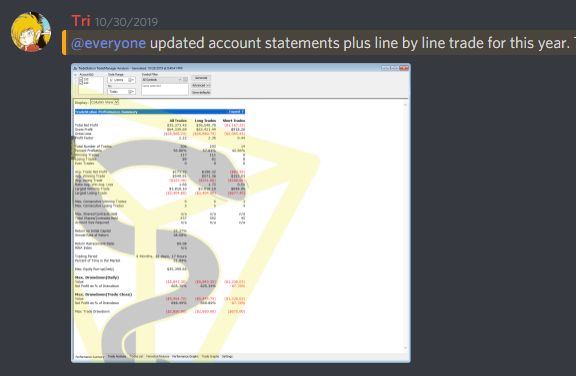 Pros & Cons explained
Almost everything I have to say about Triforce Trading is positive, Matthew is unique in the world of trading education based on his transparency and willingness to openly share exactly how he performs using the same strategies that he teaches. Matthew and Triforce Trading is the real deal with a proven record of success!
Algorithmic trading may seem scary and complex but Matthew is the living proof that this approach to trading is something that anyone can practice, not just wall-street quants!
Most traders fail because they get greedy, forget about their strategy and get irrational when things don´t go their way. In fact,  most people would probably be successful if they don´t let their emotions get in their way!
The only downside is that it takes some skill to get into this game. Depending on how fast of a learner you are, coding and algorithmic trading can be difficult to master and may pose a steep learning curve.
The only other negative thing I can think of is that automatic trading is limited to a number of brokers who support scripting and automation. Triforce trading recommends TradeStation and you will get most out of your education by using TradeStation. Though I think it would be possible with Interactive Brokers or another broker who offers professional API services.
Just saying, if you are on Robinhood, don´t bother unless you are prepared to switch to a better broker.
Verified Trades
Since Triforce Trading is using kinfo and kinfo integrates directly with Tradestation, all trades are 100% verified and there is no way to manipulate the trade performance metrics or profit shown on kinfo.
This alone puts Matthew and Triforce Trading in a position where almost no other trading expert, guru or mentor is.
Final Thoughts
I think the combination of transparency, great track record and outstanding course content puts Triforce training as one of the absolute best educational services on the market.
Trading the futures market using algorithmic trading strategies is different than what most educational services teach, though it makes it even more interesting since it proves that Matthew has found a somewhat unexplored niche and an untapped resource for profit.