How it works
The Points & Rewards system lets you as a user earn points by referring other users to signup for kinfo. For each user you refer, you will receive points. Points can be converted into free use of kinfo PRO.
You can convert points into a free subscription without ever entering payment details.
If you are already on a paid subscription, you can convert points into discount on your next paid invoice.
The Points & rewards system is available on the web version by navigating to to Settings, then click on Points & Rewards.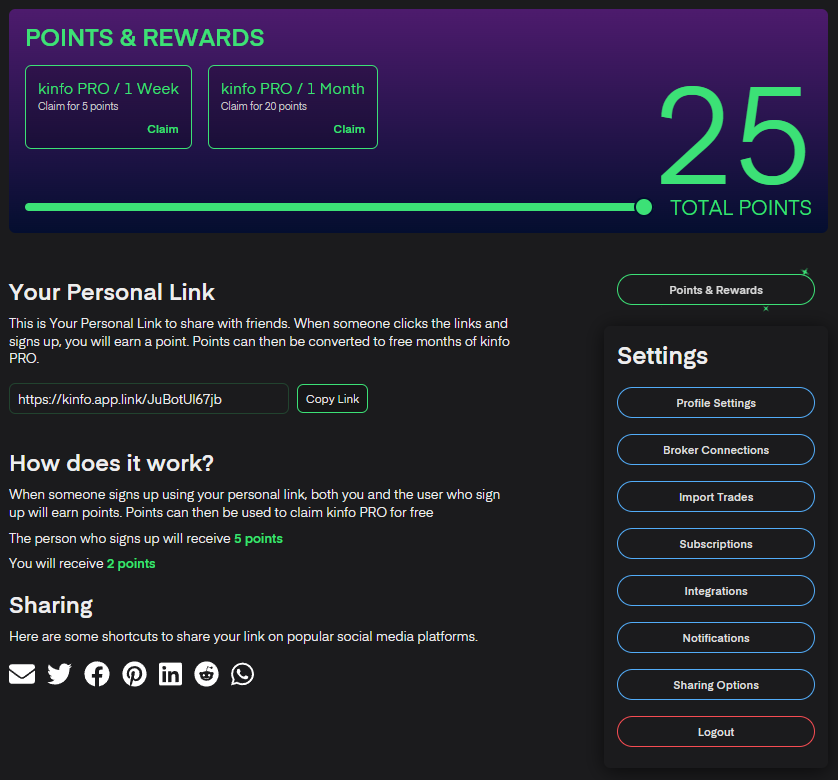 How to earn points
Get your first 5 points by just verifying your email address.
On your Points & Rewards page, you are provided with a unique link.
You can share this link with freinds & family and on social media.
A person who clicks the link will be directed to the kinfo signup page on desktop, or to the appropriate app store, if on a mobile device.
When the person has completed the signup process, points will be recorded for both you and the person who signed up.
To avoid abuse, new signups must always verify their email for points to be recorded
Claiming rewards without a subscription
You can use your points to claim a free time-limited subscription of kinfo PRO. 
Choose between 1 week or 1 month. When you claim your reward, the system will:
Create a new subscription, if no subscription exists
Add time to your subscription, if you already have one

Claiming rewards to a paid subscription
If you already have a paid subscription, you can use your points to add a discount on your next upcoming invoice.
1 Point = $1 discount.
As soon as you have 10 points you can claim $10 on your next invoice.

Final notes
Points can be used for both paid and unpaid subscriptions and will have the same value, 1 Point = 1$ value.
However, time on a free subscription can´t be transferred to a paid subscription. When you sign up for a paid subscription, your free subscription will be deleted.