This guide applies to Webull, TastyWorks and any other broker using Apex Clearing as their clearing firm.
While Apex Clearing is not a broker in itself, it´s a clearing firm used by many popular brokers.
You can link your Apex Clearing account to kinfo to enable automatic updates of trades and performance.
Kinfo works great with Apex Clearing! The integration enables end-users to track their trading performance in a meaningful way using both the mobile app and web version of kinfo.
Linking guide
While most other brokers are linked using Plaid or Tradit (Kinfos aggregation partners), kinfo has a direct integration to Apex Clearing which require a few manual steps to enable.
This guide will provide you with information about how to link your Apex Clearing account.
About Security
In order to use kinfo with Apex Clearing you have to register your account with Apex clearing to get credentials to access your transactions & account statements.
With this method the you will never share any trading credentials with kinfo and the integration is only granted access to read transaction data in order to calculate trades and performance metrics.
Since the kinfo user is granted access, the following also applies:
Kinfo

NEVER

see, store or have access to your broker trading credentials
Kinfo can

NEVER

be used to execute trades
Kinfo can

NEVER

touch your money/assets or make any changes to your account
1. Enable kinfo integration in the Apex Clearing Portal
Navigate to https://public-apps.apexclearing.com/session/#/login/
If you don´t have a login to Apex Clearing, click Create User Id and follow the instructions.
You will be able to create an account by using the same account Id and email as you have registered with your broker using Apex Clearing.
2. Linking Apex Clearing in kinfo
After you have finalized the process of creating an account in the Apex Clearing client portal, you can proceed to link your account in kinfo.
Select Apex Clearing from the listed brokers.
Enter your Login, Password & Account Id which you noted down from the Apex Clearing client portal.
If your account Id starts with a 2 digits and a dash, like 10-XXXXX, enter the account Id without 10-.
Finally click link Apex Clearing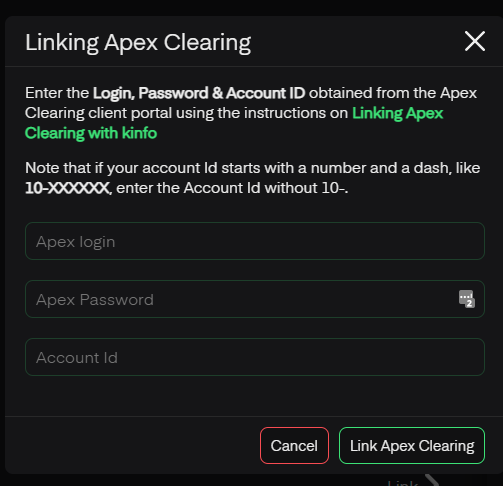 3. Track your trading performance
If you completed the steps above your Apex Clearing account should be linked to kinfo and the platform will start tracking your trading performance.
When linking the platform will import x year of history and try to calculate retroactive performance based on transactions.
Going forward, trading performance will be updated daily.
Linked Apex Clearing accounts does not support open positions.
Trades & performance are tracked based on closed out trades and when corresponding buy & sell transactions can be found. If you suspect any errors or have any questions, feels free to reach out on support@kinfo.com
Good luck with your trading!