Join the KINFO affiliate program
The KINFO affiliate program is a way to earn money by promoting KINFO on your blog, website or your social network community. Affiliates will earn commission when users signs up and link their brokerage account and when they make a purchase.
Highlights
How does it work?
Affiliates can use widgets provided by KINFO or smart links to put in a review to send a visitor to KINFO. Affiliates earn a commission when a visitor signs up and add their brokerage account.
The visitor will be tagged with the affiliate as an attribution source. If the visitor makes a purchase of any paid services in the future the affiliate will get a kick-back on that sale.
How big is the commission?
Commission is based on both signups and sales, rates are flexible and depending on size, exposure and other factors, feel free reach out to discuss rates.
Do I have to signup?
Yes, you need to have an account on KINFO to be able to enter your details, access links and analytics.
How do I know how much I have earned?
Once you are approved you will have access to dashboards to view analytics in real-time. Through the analytics dashboard you can see events, conversions and how much you have earned.
When do I get paid?
You get paid monthly as long as your balance exceeds $50.
How do I get paid?
We currently support payment through Paypal, you will be asked to provide your Paypal address when you sign up.
How do I get started?
You sign up using through the web version of KINFO.
Log in to your account
Navigate to Home -> Referral
Click on apply for the affiliate program
Complete the signup process
Do you provide any marketing material?
Yes, once you get approved you will get access to creatives such as screenshots and videos which you can use in posts and pages when you write about KINFO.
Ways to promote KINFO
The easiest way is to get started is to add widgets which will automatically implement tracking and attribution. Adding widgets to your site can be done in just a few steps through WordPress, see the guidelines below. The best way to promote KINFO is to write a review and link to KINFO sing the provided smart-links. This will likely result in a higher click-through-rate which means higher earnings for you as a blogger or site owner.
Using widgets
Widgets can easily be added using the provided Wordpess plugin. Widgets will automatically add the necessary tracking parameters, follow the instructions to get started.
Writing a review
Writing a review is a great way to provide interesting content for your readers and at the same time promote KINFO through the affiliate program. You can write the review as a normal post on your site and link to KINFO using the provided smart-link.
Any user who clicks on the smart-link and signs up will be tagged with you as referrer and attribute commission back to you.
See an existing review on Investor Junkie – KINFO Review
Using smart-links on your blog or website
You can use the smart-link as a normal link anywhere on your site to send traffic to KINFO and at the same time tag users with you as a referrer which lets you earn a commission.
Through social media
If you post your smart-link on social media, anyone who clicks the links will be tagged with you as a referrer and lets you earn a commission.
How KINFO tracks attribution
The provided smart-link has some advanced featured built into it which will first identify the user's device and send the user through the most appropriate onboarding flow and add the necessary tracking parameters.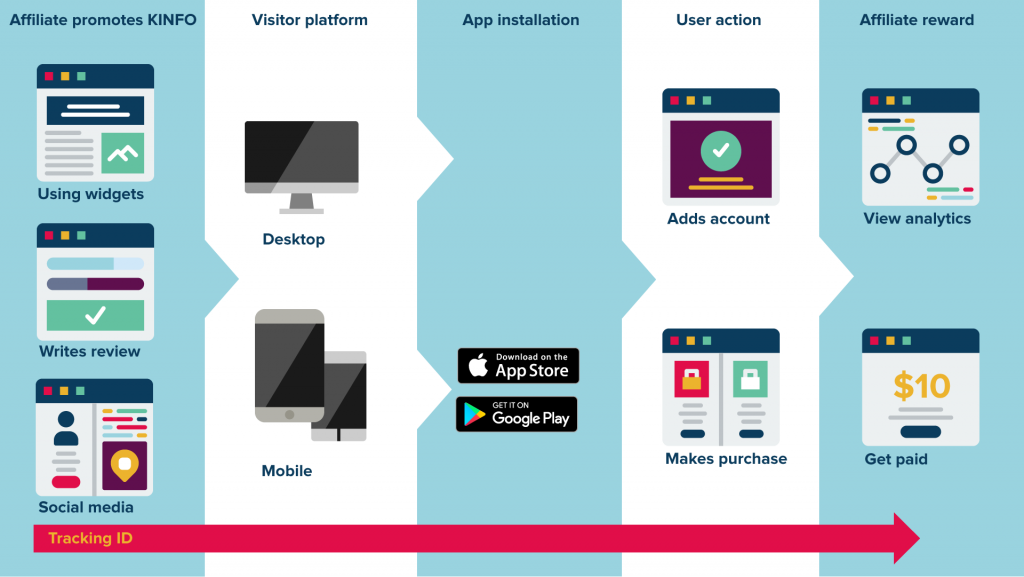 Cross channel tracking
When a user clicks a smart-link on a desktop computer, tracking parameters will be added through the browser. If the user clicks the link on a mobile device they will be presented with an invitation to install the KINFO app. All necessary tracking parameters will be kept through the app install process and tag the user with you as a referrer when they sign up through the mobile app.
This is called deferred deep linking and KINFO relies on technology from branch.io to ensure tracking data is available through the whole journey across channels.
Last link attribution
In the event a user has clicked on a smart-link one site and later clicks on a smart-link on another site, last attribution counts.
No tag expiration
A user who clicks a smart link is tagged forever to the referrer. This means that the affiliate will be able to earn commission on all future sales if KINFO adds more paid services.
Can I participate in both the referral and the affiliate program?
Unfortunately not, by default, anyone who joins KINFO can use the referral program to earn swag by promoting KINFO to friends. Once you join the affiliate program you will no longer participate in the referral program.